7 Ways To Cash In At The Muni Lot: A Cleveland Browns Fan's Guide to Tailgating Your Way to Wealth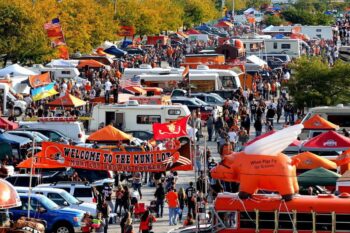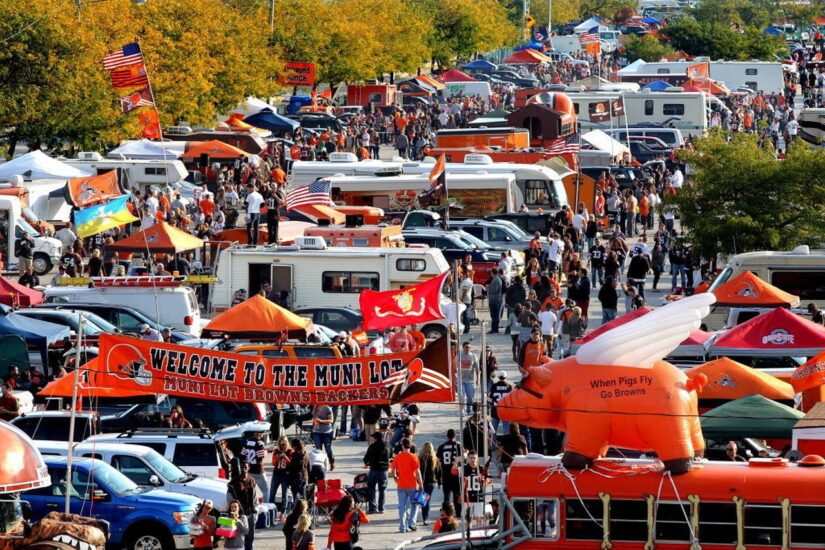 October 21, 2021
The notorious Cleveland Browns tailgate party at the Lakefront Municipal Parking Lot (affectionately known as the Muni Lot) is a fun and rowdy spot to show your love for the Browns with fans of all ages and varieties. Between the alcohol-infused antics, grills teeming with bratwurst, crowds of drunks, and orange RVs with large blind spots, the Muni Lot is also a minefield of potential injuries and lawsuits if you're not careful! Check out some of the top tailgating hazards that could score you a lawsuit at your next Browns tailgate:
Grill Burns: Sharing in a delicious grilled delicacy at the Muni Lot is a time-honored tradition. Just make sure that once you've had your fill, to get your buns away from the grill so you don't burn your hot dog. It is unlikely that minor burns from a grilling accident can result in a lawsuit, but severe burns may warrant a call to a lawyer. Regardless, stay clear of the propane and propane accessories to ensure that you make it to kickoff and not the burn unit.
Football, Frisbee, or Beanbag to the Face: No one has perfect aim, not even Baker Mayfield (we know, right?) If you're beaned by an errant football or cornhole beanbag while you're tailgating and experience a head injury, make your way to the hospital immediately to get it checked. If the injury is serious, you may be able to pursue a lawsuit against that guy who used to be your friend.  Don't worry, he probably has insurance.
Trip and Falls: Cleveland is infamous for its bumper crop of potholes and uneven pavement that can contribute to slips, trips, and falls. Factor in alcohol and crowds, and your chances of falling and hurting yourself on the march from the Muni Lot to the stadium are pretty reasonable. Trip and fall accidents can put a damper on your tailgating adventures and can also be grounds for a lawsuit if you are seriously injured. If you're the unfortunate victim of such an event, make sure you get pictures of where you fell and get to a doctor.
Physical Assault: Sometimes a friendly rivalry can get out of hand and you never know when a Pittsburgh fan might just show up in the wrong place at the wrong time (pretty much every time is the wrong time for a Steeler fan.) Getting clocked at the Muni Lot may be a rare occurrence, but if it happens to you, a lawsuit may be in your future. Assault victims have the right to sue their attackers in civil court for medical bills, psychological damage, pain and suffering, and more.
Dog Bites: They don't call it the Dawg Pound for nothing. The Muni Lot is no stranger to fans and their furry friends. Though most tailgating dogs are friendly and ready to receive a pat on the head (and maybe a stray hotdog), canine fans can get overwhelmed and lash out at the nearest bystander. If this happens, seek medical attention, and be sure to get the name and information of the dog owner in case you need to file a report or even a lawsuit at a later date.
Hit by a Car: The Muni Lot may be one of the most entertaining places to be on a Sunday before the Browns play, but it is still first and foremost a parking lot. Remember to watch out for cars, trucks, and, especially, large vehicles painted orange and brown. You might be able to see them easily, but they may not be able to see you. If you're struck by a vehicle and hurt either in the Muni Lot or on the walk to or from First Energy Stadium, you may be entitled to compensation.
The Browns Being The Browns: If all else fails, remember that the Cleveland Browns have supplied you, your family, and all of your friends with a lifetime of entertainment, fun, frustration, and dashed hopes and dreams. Did we mention frustration? If, after careful deliberation, you decide that you want to file a class-action lawsuit on behalf of all Browns fans against the Browns for infliction of emotional distress, we wish you the best of luck and suggest you call one of the other personal injury law firms in the Cleveland area.
Just remember if you're tailgating at the Muni Lot (or anywhere else), be safe, don't drink too much, it's just a game and GO BROWNS!
Back To Blog