Lowe Scott Fisher is a Personal Injury Law Firm based in Cleveland, OH
Specializing in Product Liability, Auto Defects, Car and Truck Accidents, Workplace Injuries, Nursing Home Neglect and Abuse, and Medical Malpractice.

In Ohio, Florida, California, New York, and other areas in the U.S., our clients can be confident that their personal injury claims are in the right hands with our experienced attorneys.
Lowe Scott Fisher is a personal injury law firm recognized for exceptional performance in the areas of product liability, medical malpractice, wrongful death, and nursing home negligence. Our lawyers help clients obtain tens of millions of dollars in settlements and trial verdicts. We primarily operate in Cleveland, Lorain, Chardon, and throughout Northeast Ohio.
Our personal injury law firm is frequently sought out to serve as knowledgeable advocates in challenging, high-stakes personal injury and wrongful death cases. We represent vehicle accident victims and their families when injuries or death resulted from poor design or defective products. Auto defects that necessarily hinder a vehicle's crashworthiness include:
Collapsing auto seats
Malfunctioning airbags
Defective tires, brakes, steering, transmission or fuel systems
Car roofs that crush vehicle occupants in rollover accidents
Besides motor vehicle accident cases, we often handle other cases, including:
Product defects
Workplace injury, including:

Spinal cord injuries
Traumatic brain injuries

Legal Malpractice
Complex medical malpractice, including:

Surgical mistakes
Babies delivered with brain injuries
Many of our cases come to us as referrals from other attorneys who are aware of our qualifications and track record of success. Our law practice extends nationwide. We travel throughout Ohio and other U.S. regions to gather evidence and bring injury cases to resolution through settlement and verdicts.
We employ the most effective tools of the trade on behalf of our clients who have suffered serious personal injuries, such as a spinal cord injury or a traumatic brain injury. These tools include compelling trial animations and videos that clearly communicate to the jury the nature of the misconduct that caused the harm and the extent of our clients' injuries and losses.
Contact the personal injury law firm of Lowe Scott Fisher in Cleveland, OH to request a free consultation with an attorney regarding negligence that resulted in catastrophic injury or death. We are qualified to evaluate your case and recommend the most likely path to success in obtaining the maximum available compensation.
About Us – Personal Injury Law in Cleveland, OH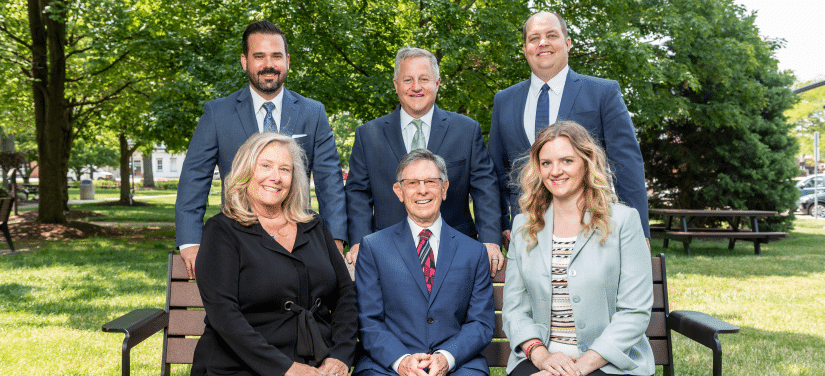 Lowe Scott Fisher was founded in 1976 by James Lowe, a graduate of Cleveland Marshall Law. Our personal injury attorneys have spent decades seeking justice for those who are catastrophically injured or have died due to negligence, product defects, or accidents in the workplace, vehicle, or elsewhere.
Cases in which a personal injury attorney may be able to help you could include:
Malfunctioning vehicle components, auto seat failure, seatbelt failure, or airbag malfunction resulting in death or injury
Negligent subcontractor or defective industrial machinery, leading to a construction site or workplace accidents.
Negligence or abuse from nursing home staff that led to serious injury or death.
A collapsed car roof resulting in the injury of occupants in a rollover accident.
Surgical malpractice resulting in serious harm.
Legal malpractice resulting in serious harm to the client.
Treating Every Case Like Our Most Important Case
The attorneys at Lowe Scott Fisher are of the highest quality and caliber, board-certified by the National Board of Trial Advocacy, and listed in Best Lawyers in America and Ohio Super Lawyers.* Our attorneys have received numerous awards, honors, and fellowships, including a "superb" rating from Avvo, listing every year in Best Lawyers In America and Ohio Super Lawyers as well as membership in the prestigious and highly selective International Society of Barristers and the American College of Trial Lawyers.
We have helped hundreds of injured people and their families and approach each new client with singular dedication. A catastrophic personal injury or accidental death in the family is a once-in-a-lifetime, cataclysmic event for most people. We provide experienced counsel and advocacy to protect your rights when someone else's negligence has turned your world upside down.
Lowe Scott Fisher works tirelessly to prepare our case to ensure they receive as much full, fair, and just compensation as the law allows. This includes lost wages and reimbursement for medical and other related expenses.
We Work to Make the World a Safer Place
Our personal injury attorneys represent those who have been gravely injured and who often cannot speak for themselves. We offer detailed investigation and legal analysis to get to the bottom of a serious accident case and demand justice for our clients.
"We hope — and believe— that our advocacy for the seriously injured helps make the world a better place. Every successful claim against a negligent manufacturer, motorist, or employer serves notice to the rest of the world that people's safety and well-being must come before profit. Most worksite injuries and product failures are preventable, and by holding the wrongdoers accountable for the harm they cause, the world slowly, but surely, becomes a safer place. We are here to help make that happen."
— James A. Lowe, Founding Partner of Lowe Scott Fisher
Your Case First
Clear communication and collaboration with clients are high priorities at Lowe Scott Fisher. Many of our clients come from referrals from other lawyers, thanks to our reputation for results and our past clients' satisfaction. The protection and promotion of our clients and their well-being is the reason our law firm exists. Learn how we can help after a serious injury resulting from a defective product, negligent doctor, careless motorist, or dangerous work site.
Call or e-mail us today to get answers about your personal injury case.
Personal Injury Resources & Information
Important Resources
Firm News