Three Lowe Scott Fisher Partners Named In Best Lawyers 2022 Guide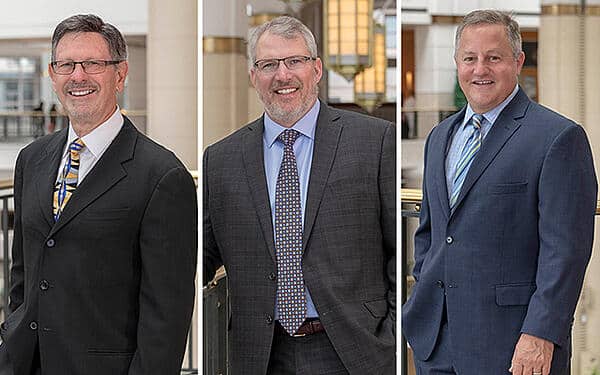 August 23, 2021
Monday, August 23, 2021 – Lowe Scott Fisher is pleased to announce that partner attorneys James A. Lowe, Gregory S. Scott and Ryan H. Fisher have been named to the 2022 Best Lawyers Guide.
Lowe, who has been featured since 1993, is recognized in the areas of Personal Injury Litigation – Plaintiffs and Product Liability Litigation – Plaintiffs. Scott has been recognized by Best Lawyers since 2015 for Medical Malpractice Law – Plaintiffs and Fisher was first featured in 2016 and is recognized for Medical Malpractice Law – Plaintiffs.
Best Lawyers is a legal peer-review publication founded in 1981. Only 1% of all lawyers in the United States are represented on the Best Lawyers guide. Best Lawyers only accepts additions to its outstanding lawyers lists from a rigorous review and peer nomination voting process. The publication works in partnership with U.S. News & World Report and is read by more than 17 million subscribers worldwide.
"I am honored to be a part of the 2022 Best Lawyers guide alongside two of my esteemed colleagues and partners," said Partner Attorney Greg Scott. "The attorneys at Lowe Scott Fisher are always working to make sure we're delivering the best outcomes for our clients that we possibly can. It's wonderful to see that work ethic reflected in our peers' opinions."
To find out more about the attorneys at Lowe Scott Fisher, please visit our website where you can find attorney bios and contact information. To get in touch with Lowe Scott Fisher for a free legal consultation, please visit our website Contact Us page.
Back To Blog