Lowe Scott Fisher Announces New Office In Chardon Square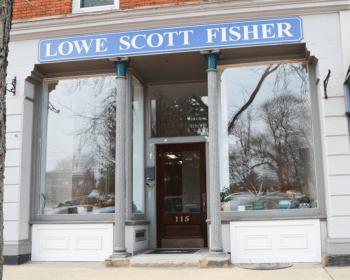 April 7, 2021
Lowe Scott Fisher, a personal injury law firm serving Northeast Ohio with offices in Cleveland, Chardon, and Lorain, OH is pleased to announce the opening of a brand-new office in downtown Chardon, OH.
The new office is conveniently located at 115 Main Street on Chardon's historic Downtown Square. The firm's newly installed sign can be seen from the square. It will serve the local community as a full-service injury law firm with practice areas including personal injury, medical and legal malpractice, and product liability, and as home base for the firm's Workers Compensation and Social Security Disability division.
Though the firm has long kept an office in Chardon, this new location offers an opportunity for expansion and provides ample space and resources to better serve the citizens of Geauga County and the surrounding areas.
"Although our main office remains in downtown Cleveland, myself and my longtime legal partner, Greg Scott, have lived and raised our own families in Geauga County," said Partner Ryan Fisher. "Our partner Meghan Connolly lives less than 15 minutes from Chardon Square in Kirtland, and Carly Ibold lives just down the road in Hambden, so we are all very excited to reveal this newly remodeled space in our own backyards, and we see it as a way to better serve the legal needs of the community that we live in."
A ribbon cutting ceremony will be held by the Chardon Area Chamber of Commerce to mark the opening of the new space on May 5, 2021 at 5:00 p.m.
"As long as I can remember, it has always been a dream of mine to have a coveted space on the historical Chardon Square," said Ibold. "I cannot express how excited I am that our firm will now be taking our experienced law practice right to the heart of Chardon. I look forward to seeing the friendly faces of my local community, and using our legal expertise to help those in need."
For more information about Lowe Scott Fisher Co., LPA, please visit our website.
About Lowe Scott Fisher Co., LPA
Lowe Scott Fisher is a nationally-recognized personal injury law firm located in Cleveland, OH, with additional offices in Lorain and Chardon, OH. The attorneys at Lowe Scott Fisher are well known for successful settlements and verdicts in product liability, medical malpractice, wrongful death, motor vehicle accidents and nursing home negligence cases. Our attorneys have received numerous awards, honors and fellowships, including a "superb" rating from AVVO, listings every year in Best Lawyers In America and Ohio Super Lawyers as well as membership in the prestigious and highly selective International Society of Barristers and the American College of Trial Lawyers.
Back To Blog