Amusement Ride Injuries Make National Headlines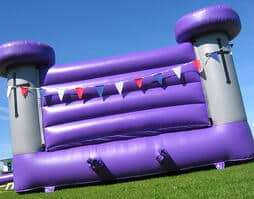 June 4, 2014
For the second time in under a month, a peculiar type of personal injury has made national headlines—amusement ride injuries caused by a runaway "bounce house," a type of inflatable trampoline.  In two separate incidents, several children were injured when a bounce house in which the children were playing was carried off by strong wind.
In one incident, the bounce house can be seen being carried well over fifty feet into the air, while the other incident shows the bounce house tumbling wildly in the wind.  Fortunately neither incident was fatal, but some of the children's injuries were quite severe.  And, while it is easy to write these bounce house injuries off as anomalous, this exact type of accident has happened before.
When accidents like this happen in Ohio, what does the law say about who may be liable?  As in most personal injury lawsuits, the answer to that question depends on the facts.  The bounce houses themselves may have been defective, in which case the manufacturers (or, in some cases, the suppliers) of the defective products may be liable.  If the bounce houses are put in use as part of an event, the event organizers may face liability if they failed to ensure that the bounce houses were properly secured.  Moreover, Ohio law imposes specific safety standards on amusement ride injuries —including inflatable devices—that may serve as the basis for a claim of negligence per se.
As summer approaches, it is important for parents and fairgoers to remember that bounce house, amusement ride and amusement park injuries are a very real danger.  According to a 2013 report, 4,400 kids get hurt each year on amusement rides.  Make sure that your children only go on rides that have been properly inspected and secured.
If your child has suffered from amusement ride injuries, contact the experienced Ohio product liability lawyers at Lowe Scott Fisher Co., LPA to discuss your options.
Back To Blog