Attorneys Scott Kuboff and Kyle Melling Named Partners at Lowe Scott Fisher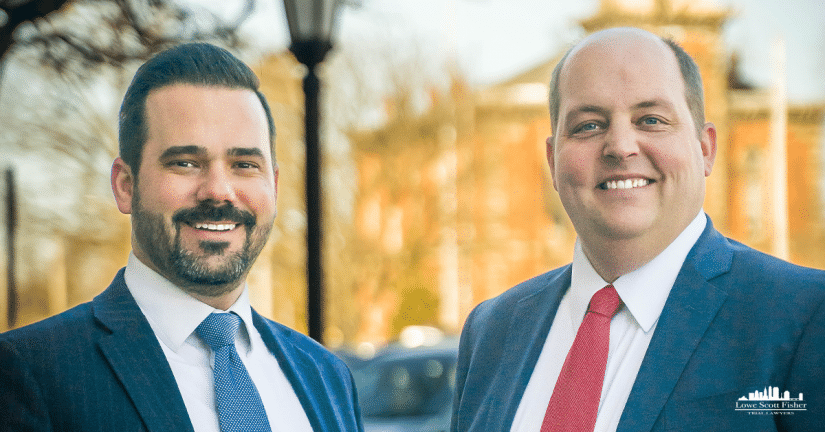 April 3, 2023
Lowe Scott Fisher is pleased to announce the addition of two partners to the firm, attorneys Scott Kuboff and Kyle Melling. Mr. Kuboff and Mr. Melling both have extensive experience in personal injury, product liability, and malpractice law. 
"We're very excited to expand our firm's partnership to include Scott and Kyle," said partner attorney Ryan Fisher. "Both bring invaluable perspectives and expertise to Lowe Scott Fisher and we look forward to their contributions as our practice continues to grow."
Kyle Melling started his career with Lowe Scott Fisher as an associate attorney in 2018 after spending five years working as a civil rights defense attorney. Since joining LSF, Kyle has won millions of dollars in verdicts and settlements for product liability and injury plaintiffs. He is a graduate of Cleveland State University College of Law and was admitted to practice law in Ohio in 2013. Kyle is a member of the Ohio State Bar Association and the Cleveland Metropolitan Bar Association. Kyle also serves on the Rainbow Babies and Children's Foundation Associate Board and is a past Secretary, Vice President, President, and Trustee Chair of the organization. He is also on the Board of Directors for the Cleveland Academy of Trial Attorneys (CATA.)
"It's an honor to be promoted to the role of partner after the last five years of advocacy with the attorneys at LSF," said Kyle. "The firm has an exemplary reputation for taking and succeeding with difficult and complex litigation. I look forward to continuing the great work we've been doing to help our clients get the justice they deserve while evolving our firm into a future-focused practice."
Scott Kuboff is a 2007 graduate of Cleveland State University College of Law where he was the President of the Student Bar Association and active in Moot Court. He began his practice with a prominent Cleveland criminal defense firm where he gained extensive courtroom and trial experience. In 2013, Scott transitioned his practice to personal injury, receiving millions in settlements and verdicts for injured individuals in automobile collisions, bicycle collisions, dental and medical malpractice, nursing home neglect, and school injury claims. Scott serves on the Executive Board of the Cleveland Academy of Trial Attorneys, and the Board of Trustees for the Cleveland State Law Alumni Association. He is the Assistant Cubmaster for Pack 3269 in Aurora. He received the CATA President's award in 2022 and is listed in SuperLawyers, Best Lawyers in America, Lawyers of Distinction, and ASLA Top 40 Litigation Lawyer Under 40. 
"For years, Lowe Scott Fisher has set the standard for advocacy of people who have been seriously injured or killed. It is one of the greatest privileges of my life to join LSF as a partner and carry on the firm's strong tradition of seeking justice for our clients, said Scott. "I am excited to get started and look forward to working with Ryan, Meghan, and Kyle."
"Scott and Kyle are excellent additions to the Lowe Scott Fisher partnership team," said partner attorney Meghan Connolly. "I've worked extensively with both of them over the years and have been witness to their impassioned representation of injured people. I've known Kyle for over thirty years, and have the highest expectations for his contributions as a partner. Scott has proven to be a true asset of the plaintiff's bar in our community, and our firm and our clients are very fortunate to bring him on board. They are two attorneys to watch as they continue to rise to the top."
To find out more about the attorneys at Lowe Scott Fisher, please visit our website where you can find attorney bios and contact information!
About Lowe Scott Fisher Co., LPA
Lowe Scott Fisher is a nationally-recognized personal injury law firm in Cleveland, OH, with additional offices in Lorain, Rocky River, and Chardon, OH. The attorneys at Lowe Scott Fisher are well known for successful settlements and verdicts in product liability, malpractice, wrongful death, and nursing home negligence cases. Our attorneys have received numerous awards, honors and fellowships, including a "superb" rating from Avvo, listings every year in Best Lawyers In America and Ohio SuperLawyers as well as membership in the prestigious and highly selective International Society of Barristers and the American College of Trial Lawyers.
For more information about Lowe Scott Fisher, please visit our website or contact us at 216-781-2600.
Back To Blog