Back to School Safety: A Guide For Drivers, Parents, Teachers, And Students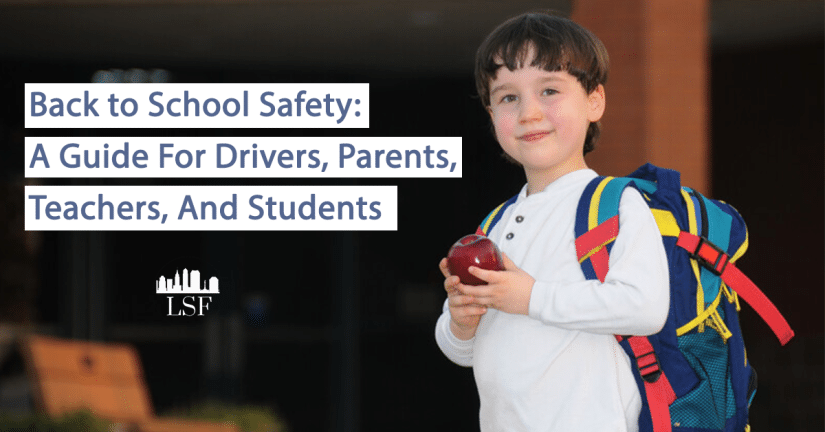 September 12, 2023
As summer draws to a close, the excitement of a new school year begins. Parents and children alike prepare for a fresh start filled with learning, growth, and new experiences. However, amidst the hustle and bustle of back-to-school shopping and planning, it's crucial not to overlook the importance of back to school safety. As a trusted personal injury law firm, we understand the significance of safeguarding your children and yourself from potential hazards. In this comprehensive guide, we'll delve into essential safety tips to ensure a smooth and secure transition back to school.
Pedestrian Safety:
With the return of school buses, walkers, and cyclists, pedestrian safety becomes a top priority. Remind your children to:
– Always use designated crosswalks when crossing the street.
– Look left, right, and left again before crossing, ensuring no vehicles are approaching.
– Make eye contact with drivers before crossing to ensure they see you.
– Stay on sidewalks and paths, and avoid darting between parked cars.
– If your child walks to school, plan a safe route and practice it together. If possible, use a buddy system and do not let the child walk alone.
School Bus Safety
For children who take the bus to school, it's essential to review school bus safety rules:
– Wait for the bus at a safe distance from the road.
– Always stand back when the bus is approaching or departing.
– Wait for the bus to come to a complete stop before approaching it.
– Never cross the road behind or in front of the bus.
– Follow the bus driver's instructions at all times.
Traffic Safety Around Schools
Increased traffic around schools can lead to potential accidents. As a driver, remember to:
– Obey school zone speed limits and all traffic signs.
– Be extra cautious during school drop-off and pick-up times.
– Avoid distracted driving, such as using your phone, while in school zones.
– Yield to pedestrians and school crossing guards.
– Always obey school bus stop signals and remain a safe distance from busses as they load children.
Backpack Safety
Heavy backpacks can lead to strains and discomfort for students. To ensure your child's backpack is safe:
– Choose a backpack with wide, padded shoulder straps.
– Adjust the straps so the backpack sits snugly on your child's back.
– Pack only necessary items to reduce weight.
– Encourage your child to use both shoulder straps to evenly distribute the weight.
Playground Safety
Recess and breaks are a crucial part of the school day. To prevent playground injuries:
– Teach children proper playground etiquette and rules.
– Ensure playground equipment is age-appropriate and well-maintained.
– Encourage children to use equipment one at a time and avoid pushing or shoving.
– Check for hazards like sharp edges, loose bolts, or broken equipment.
– Report any playground injuries to the school in a timely fashion to avoid further injuries to other children.
As you gear up for another school year, prioritize safety alongside academics. By following these back to school safety tips, you're taking proactive steps to protect your children and yourself from potential accidents and injuries. Lowe Scott Fisher is committed to advocating for the well-being of families in our community. However, should an unfortunate incident occur, know that we are here to provide expert legal guidance and support. If you've been injured, please contact our office for a free legal consultation at 216-781-2600 or fill out our online contact form to submit your information directly to us. 
Wishing everyone a safe, successful, and injury-free school year ahead!
Back To Blog