Highlights and reflections from Lowe Scott Fisher community service day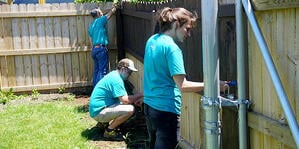 June 13, 2019
What is community? For many of us at Cleveland law firm Lowe Scott Fisher, community is fellowship, it is giving back to those around as you are able, and it is a sense of belonging and place.
To show our ongoing commitment to Northeast Ohio, 12 members of the Lowe Scott Fisher team spent a day on site with a local nonprofit for a one-day service project with Providence House, a crisis nursery that provides emergency shelter, basic needs, clothing and other personal items.
Attorney Meghan P. Connolly, a partner at Lowe Scott Fisher, said, "We were looking forward to getting our hands dirty and working together as a team for such a great cause. We had a great time on the campus and it was heartwarming to see their life-changing work."
Our goal for the firm's staff and attorneys was 100 percent participation — which is quite lofty, to be honest, given the day-to-day workload that everyone must balance — but each person committed to working as hard as possible to finish their assignments ahead of that day so we could meet that goal.
Sarah Tuckowski, community engagement coordinator, gave us a tour of the spaces and explained how Providence House supports and strengthens families in crisis by offering free, voluntary (non-custodial) emergency shelter to children newborn through age 12. She also explained that volunteers are essential to help with the ongoing events, services, and a range of projects and maintenance on the property.
"We are a small staff, so we rely on the support of volunteers to help with campus projects," Sarah told us. "Volunteers help our staff get more done and spreads our message, and it gives them the opportunity to experience our campus and offer greater support in the community."
From there, Dave McJunkins, facilities coordinator, detailed the list of projects that our group would tackle, which included landscaping, sorting and inventorying donated items, and exterior painting. Our staff divided into three groups and, with Dave's guidance and Sarah's encouragement, went about the work.
And it was invigorating work. Staff members told each other that it felt that with each sorted item, each stroke of a paintbrush on a wooden fence, and each little weed pulled from a garden bed, they were helping make the campus welcoming and safe for every child who stays there.
It's a day that will remain engrained in our minds, because of the fellowship we shared, the effort made to give back, and a sense of belonging. Because of community.
Lowe Scott Fisher's contributions to Providence House are still ongoing! Through the end of June, our law firm will make a financial donation of $2 to Providence House for each new Like on Facebook and Follower on Instagram.
Back To Blog