How To Safely Carve A Pumpkin This Fall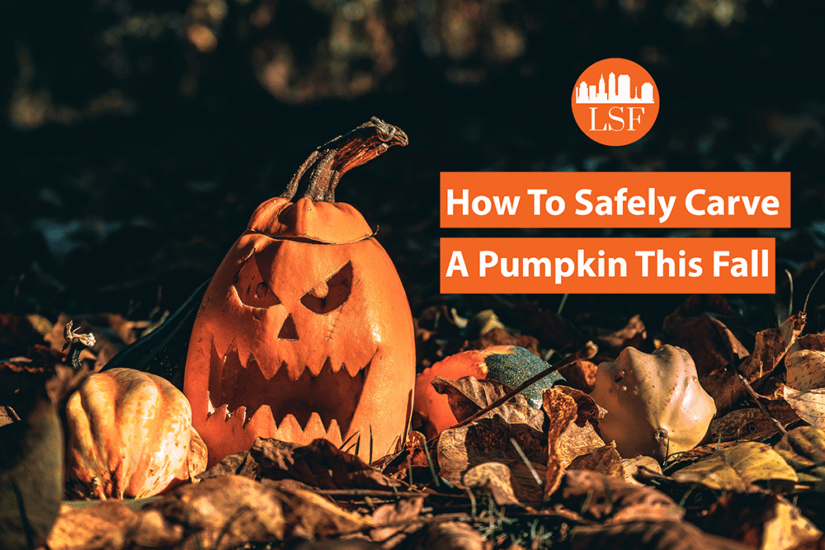 October 18, 2022
Halloween is one of the most anticipated times of year for children and adults alike and the time-honored tradition of carving pumpkins is a can't-miss fall activity. Unfortunately, pumpkins are round, tough gourds (and fruits, and squash!) and require sharp knives and nimble, skilled hands. The combination can be a parent's safety nightmare and can require careful planning and preparation.
Take a look at our safety checklist below to ensure your fingers don't end up a Halloween horror story this year:
✓ Choose Wisely!
Pumpkins come in all shapes and sizes. It's essential to select the right one for the safest carving experience possible. Pumpkins with a stable bottom and a flatter area to position your design are ideal. Wobbly pumpkins are more likely to cause the knife to slip and cut your hand, arm or fingers. Smaller pumpkins have less area to work with and less room for error. Choose a larger pumpkin for safer carving.
✓ Prep Your Carving Station
One of the easiest ways to improve your pumpkin carving safety is to ensure you have a well-lit, dry area to work. Make sure that your carving surface is flat, nonskid, and easy to keep clean as you go. We recommend a minimum area of three feet by three feet. Placing newspaper or a nonstick pad underneath your pumpkin will help further reduce skidding and will improve cleanup. Be sure to designate an area to keep your carving tools as you carve. This will help avoid accidentally stabbing yourself when reaching for other tools.
✓ Carving Precautions
A common mistake people make is to cut the top off the pumpkin and clean out the seeds inside before beginning to carve. The seeds and pulp slow down out-of-control knives that can cause accidents. When the inside of the pumpkin is hollowed, you are more likely to put your hands inside the pumpkin as you work, which increases the risk of serious injury.
While stores often tout plastic carving kits as the safest option, it's important to note that these tools are often dull and difficult to cut with. A sharp vegetable knife with a thin, flexible and serrated blade can be significantly less dangerous when used by an adult with moderate knife skills than a dull plastic knife from a kit. Be sure to cut away from your body and use slow back-and-forth sawing motions rather than forceful hacking or jabbing motions. Always keep children a safe distance from the pumpkin while you are carving.
✓ Kid-Friendly Alternatives
Children love to be involved in the pumpkin carving process. Unfortunately, sharp knives and small, inexperienced hands do not mix. There are, however, many ways to make decorating pumpkins fun and safe for children of all ages.
Many families opt to paint pumpkins instead of carving them. Nontoxic paint, googly eyes, glitter, pipe cleaners, and fabric are all creative ways children can safely participate in the pumpkin decorating festivities.
When it comes to traditional carving, children can help by drawing a face or design onto the pumpkin before an adult begins to carve. Once an adult has finished carving, children can help remove the seeds and pulp from inside the pumpkin using their hands, a spoon, or even a soup ladle.
Finally, skip the candle and opt for LED votives or tea lights. LED lights emit the same soft light as a candle without the risk of fire. They also come in a wide variety of colors ranging from classic soft yellow to bright neon greens, pinks, blues, and more for a creative twist on a classic theme.
No matter what route you choose, there are many alternatives that will make this year festive, fun, and safe. Happy Halloween!
To speak to an attorney at Lowe Scott Fisher, please give our office a call at 216-781-2600 or submit an online contact request for a free legal consultation.
Back To Blog