Lowe Scott Fisher Wins Prestigious 2015 Litigator Award for Personal Injury Law to Solidify Position Among Best Attorneys in Cleveland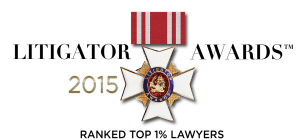 March 20, 2016
Cleveland, Ohio – March 1, 2016 – This year, Lowe Scott Fisher Co., LPA, a Cleveland, Ohio based law firm, was awarded the 2015 Litigator Award in the category of personal injury law by the Trial Lawyers Board of Regents. This prestigious award is based upon verifiable settlement amounts, and confirms the firm's place among the best attorneys in Cleveland as well as nationally.
Second Year in a Row
While the legal profession boasts a variety of different awards, the Litigator Award is among one of the industry's highest honors. A nationally recognized award, the Litigator Award is granted to only the top one percent of lawyers in their respective fields. While more than a million attorneys are considered for the honor each year, only a handful will end up being lauded with the recognition. This is not the first time Lowe Scott Fisher has been named with the honor, having won it now two years in a row.
The consideration of such an honor is important to prospective clients: It is a designation that helps them make informed decisions and evaluate potential law firms based on past performance. A firm distinguished with such an honor features experienced and accomplished lawyers who have demonstrated success.
What It Means
According to the Trial Lawyer's Board of Regents, LLC, the grantor of the award, "the Awards are based on actual 'Verdict & Settlement' dollar achievement rather than peer popularity, making them perhaps the most rigorous and openly judged Award Ratings anywhere." Lowe Scott Fisher joins an exclusive group of the nations best attorneys who have won million, multi-million and/or billion dollar cases. Only a very few of the best attorneys per state or major metro area will win a Litigator Award in any given practice specialty. This is fewer than about 12 law firms per state or metro area of the of the almost 1,100,000 lawyers evaluated every year. Independent audit and research teams collect important metrics to determine each firm's suitability for the achievement.
Among the Best Attorneys in Cleveland
"Our firm has a passionate belief in a civil justice system that makes our society safer, by encouraging people and companies to act responsibly," explains James Lowe. Lowe and the rest of his firm hold themselves to a high set of standards in their quest to improve safety and fairness. They believe that individuals, organizations, and corporations should be held to account by plaintiffs who have been injured by motor vehicle design defects, medical malpractice, birth injuries, consumer and commercial class actions, legal malpractice, traumatic brain injury, nursing home abuse and more. "We take on substantial risk in terms of the difficulty of these cases and the expense of pursuing them," adds Lowe. " But by taking on these challenges, we've been able to help people who have been devastated by a serious injury or the death of a loved one." In addition to the Litigator Award, James Lowe and his firm have received all major national and local endorsements and awards over the last several years, including Lawyer of the Year, Super Lawyer, and an AV rating from Martindale-Hubbell.
Lowe Scott Fisher Co., LPA (https://lsflaw.com), founded in 1976, is recognized as a leader in medical malpractice, personal injury and product liability cases. The firm has successfully represented people in the areas of motor vehicle accidents, automobile product safety, personal injury, home and workplace safety, medical malpractice, and birth injuries, as well as families of victims of wrongful death. U.S. News & World Report named the firm to its "Best Law Firms" list (2010–2015); lawyers from the firm were again honored as Ohio Super Lawyers for 2015. In addition, firm partner James Lowe has been selected for inclusion in The Best Lawyers in America each year since 1993; partner Gregory S. Scott was also recently included on this list.
To learn more about the Litigator Awards, visit https://www.litigatorawards.com/2015/lowe-eklund-wakefield-co-lpa
Back To Blog