Ohio Airbag Injury Law Firm Investigates Takata Airbag Recall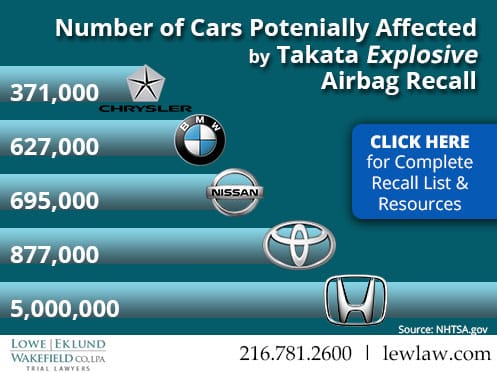 November 25, 2014
Following the recall of more than 14,000,000 motor vehicles worldwide, the airbag injury lawyers of Lowe Scott Fisher Co., LPA are investigating potential product liability and wrongful death claims related to Takata Corp. airbags.
Takata Airbag Recall
Takata airbags are used in dozens of makes and models of motor vehicles, including vehicles manufactured by Honda, Ford, Toyota, and General Motors.  Like any airbags, the Takata airbags use a chemical compound as a propellant for inflating the airbag in the event of a collision.  Takata airbags used to be manufactured with a relatively safe propellant called tetrazole, but rising costs led to Takata replacing tetrazole with a cheaper, volatile propellant.
The replacement propellant, ammonium nitrate, is "highly sensitive to temperature changes and moisture, and it breaks down over time.  And when it breaks down, it can combust violently."  So violently, in fact, that Takata airbags can explode when deployed, shooting metal shards of shrapnel at passengers.
Thus far, at least 5 deaths and numerous injuries have been linked to the defective airbags.  With the NHTSA investigating the possible under-reporting of incidents by automobile manufacturers—specifically, Honda—the number of fatalities is likely much higher.
Which Vehicles Are Affected?
As previously mentioned, the defective Takata airbag recall applies to a litany of makes and models, including:
Acura: 2002–2003 CL and TL; 2003–2006 MDX; 2005 RL
BMW: 2000–2005 3-series sedan and wagon; 2000–2006 3-series coupe and convertible; 2001–2006 M3 coupe and convertible
Chrysler : 2005–2008 Chrysler 300; 2007–2008 Aspen
Dodge/Ram: 2003–2008 Dodge Ram 1500; 2005–2008 Ram 2500, Dakota, and Durango; 2006–2008 Ram 3500 and 4500; 2008 Ram 5500
Ford: 2004 Ranger; 2005–2006 GT; 2005–2007 Mustang
Honda: 2001–2007 Accord; 2001–2005 Civic; 2002–2006 CR-V; 2002–2004 Odyssey; 2003–2011 Element; 2003–2007 Pilot; 2006 Ridgeline
Infiniti: 2001–2004 Infiniti I30/I35; 2002–2003 Infiniti QX4; 2003–2005 Infiniti FX35/FX45; 2006 Infiniti M35/M45
Lexus: 2002–2005 SC430
Mazda: 2003–2007 Mazda 6; 2006–2007 Mazdaspeed 6; 2004–2008 Mazda RX-8; 2004–2005 MPV; 2004 B-series
Mitsubishi: 2004–2005 Lancer; 2006–2007 Raider
Nissan: 2001–2003 Maxima; 2001–2004 Pathfinder; 2002–2006 Nissan Sentra
Pontiac: 2003–2005 Vibe
Saab: 2005 9-2X
Subaru: 2003–2005 Baja, Legacy, Outback; 2004–2005 Impreza, Impreza WRX, Impreza WRX STI
Toyota: 2002–2005 Toyota Corolla and Sequoia; 2003–2005 Matrix, Tundra
Consumers and Victims: What Should You Do?
While the specifics of the Takata airbag recall may be new, the story behind the recall is unfortunately the same story that we so often see: a manufacturer made the despicable decision to put profits before safety.  But consumers and victims have rights under the law that manufacturers cannot ignore.
If you or a loved one have been injured as the result of a defective Takata airbag, contact the experienced airbag injury attorneys at Lowe Scott Fisher Co., LPA to discuss your case.  Representing clients in Ohio and across the country, our award-winning product liability team can help you receive the compensation you deserve.
Back To Blog