Parents of Infants: Baby Wipe Recall That You Should Know About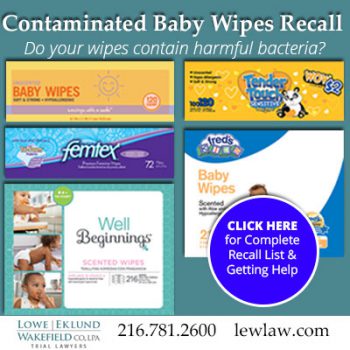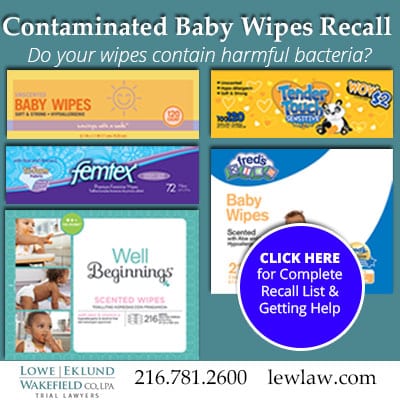 October 28, 2014
Yesterday, the FDA issued a recall statement for numerous baby wipe brands manufactured and sold by Nutek Disposables, Inc.  The recalled baby wipes were sold under the following brand names: Cuties, Diapers.com, Femtex, Fred's, Kidgets, Member's Mark, Simply Right, Sunny Smiles, Tender Touch, and Well Beginnings.  The recalled wipes were sold prior to October 14, 2014 in several major retail stores: Walgreens, Sam's Club, Family Dollar, Fred's, and Diapers.com.
The recall was issued because the affected baby wipes were contaminated with Burkholderia cepacia.  B. cepacia infection may cause:
Rash or irritation
Respiratory problems
Gastrointestinal problems
Burkholderia cepacia poses serious risk of infection and pneumonia to those with weakened immune systems or lung disease.  Further, the disease's resistance to antiseptic agents facilitates person-to-person communication
Consumers who have purchased but not used Nutek's recalled products should return them to the place of purchase for a refund.  If you are presently using the recalled brands in the care of your infant, stop immediately and consult a physician if you notice anything out of the ordinary.  After you receive medical advice from your doctor, please contact the personal injury lawyers at Lowe Scott Fisher Co., LPA. because our trial attorneys have a proven track record of representing clients in product liability cases.
The attorneys of Cleveland, Ohio's Lowe Scott Fisher Co., LPA are committed to representing personal injury victims of defective products, medical malpractice, and motor vehicle accidents.  If you or a loved one have been injured or fallen ill due to contaminated baby wipes, contact us today to discuss your product liability case.
Back To Blog