Peloton Reverses Course, Recalls all Treadmills After Numerous Injuries and One Death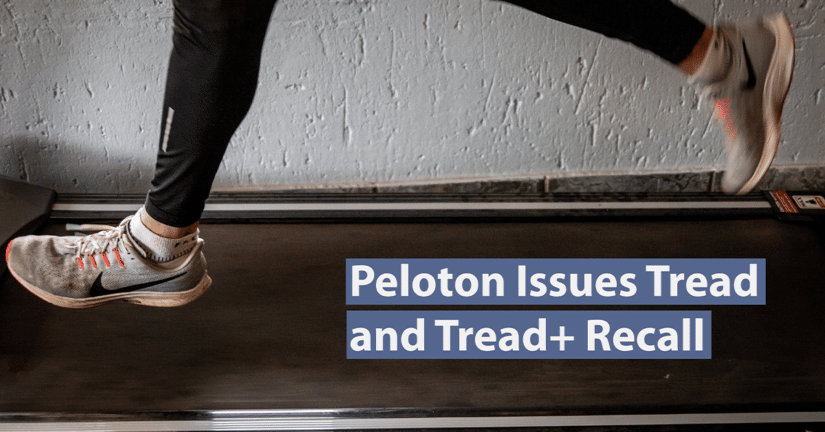 May 6, 2021
Kyle Melling, Associate Attorney
After reports of more than a dozen serious injuries, including the death of a child, Peloton Interactive, Inc. (Peloton) has announced a recall on all of its Tread and Tread + treadmill devices. This recall comes a little less than a month after the U.S. Consumer Product Safety Commission (CPSC) issued a stark warning that customers with children and pets should immediately stop using the Peloton Tread+.   
CPSC issued their warning after investigating at least 39 reports of injuries and one report of a child being killed by the Peloton treadmill. In their warning, CPSC stated it believes that the Peloton Tread+ "poses serious risks to children for abrasions, fractures and death."  Among other issues, the below video suggests that these injuries and death involve young children or pets being pulled under the treadmills, after coming into contact with the rear of the treadmill while it was in use. 
A video of a child struggling under the Peloton Tread+ and escaping from its grip is available on YouTube, however, it is graphic and we advise those averse to sensitive content to avoid viewing it.
Initially, Peloton CEO John Folely rebutted the CPSC warning. In a statement on their website, Peloton called the CPSC warning "misleading" and "inaccurate" and insisted that as long as all warning and safety instructions are followed, there was no reason to stop using the Tread+. However, on May 5, 2021, Peloton reversed course and issued a recall of all of its Tread and Tread+ products. It is believed that approximately 125,000 Peloton Tread+ treadmills are subject to this recall. 
If you or a loved one were injured by a defective Peloton Tread or Tread+ treadmill or exercise bike, contact us for a free consultation.  Call 216-781-2600 or tell us about your potential case using our online form below.   
Links:
https://www.cpsc.gov/Newsroom/News-Releases/2021/CPSC-Warns-Consumers-Stop-Using-the-Peloton-Tread
https://investor.onepeloton.com/news-releases/news-release-details/peloton-refutes-consumer-product-safety-commission-claims
https://www.cpsc.gov/Recalls/2021/Peloton-Recalls-Tread-Plus-Treadmills-After-One-Child-Died-and-More-than-70-Incidents-Reported
Back To Blog