Private Swimming Pool Liability in Ohio: What You Need To Know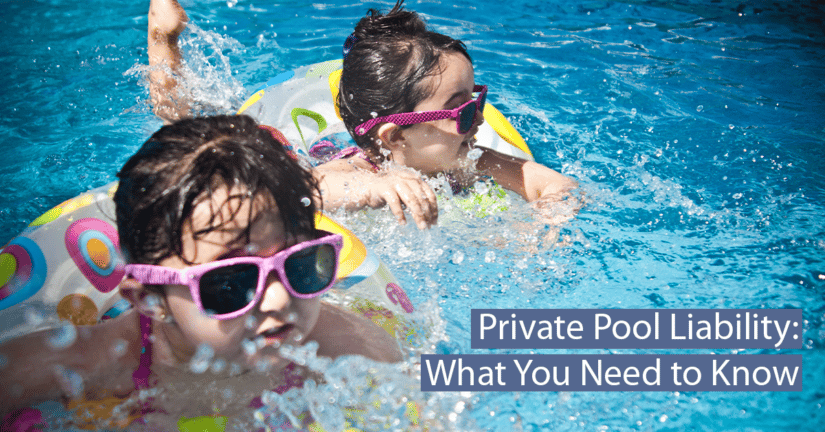 June 18, 2021
Summer is here and so is the warm weather. People all over are hopping into pools to cool off and relax. And with the season comes the worry, what if an accident happens? If you're a private, backyard pool owner, pool safety concerns can feel overwhelming.
One of the most important things to understand about installing and maintaining a private pool in your home is that the law requires you to take reasonable safety precautions. This is because pools fall under the "attractive nuisance" doctrine, which was adopted in Ohio in 2001. An attractive nuisance at its fundamental level is an enticing condition or item (such as a pond, trampoline, pool, etc.) that could attract and potentially harm a child who may not appropriately assess the risk of engaging with that condition.
According to the Ohio Supreme Court, the attractive nuisance doctrine can be applied if the dangerous situation meets all five of these criteria:
The landowner knows or has reason to know that children are likely to trespass in the area of a dangerous artificial condition.
The artificial condition poses an unreasonable risk of death or serious bodily harm to children.
The children cannot discover the danger of the condition or realize the risk posed by the condition.
The utility of the condition and the burden of eliminating the danger are slight compared with the risk posed to children.
The possessor fails to exercise reasonable care to eliminate the danger or otherwise protect the children.
For the safety of all involved, owners must take reasonable precautions to ensure their pool is safe to use and protected from unexpected trespassing. Local ordinances have requirements regarding pool safety. In order to build your pool, you will be required to comply with all of them. Some basic requirements that all Ohio cities enforce include:
Fencing with a self-closing or locking gate to limit unmonitored access. In the case of above-ground pools, a secure pool cover or other approved protective device is required
Appropriate chemical maintenance to avoid clouding, dangerous chemical combinations, or algae buildup
Properly installed pool lighting that meets all electrical safety requirements
Adequate plumbing, filtration, heating, exhaust, and ventilation systems
Additionally, it is recommended (but not legally required everywhere) that pool owners have the following:
Posted safety rules
First aid kit
Life preservers and a life hook that are easily accessible to pool users
A CPR-certified adult on the premises whenever possible. If you are a pool owner, look into certification classes as soon as possible
Posted emergency phone numbers and access to a phone for emergency situations
A well-kept property to avoid trip and falls. This includes regularly clearing away toys, towels and other trip hazards
A well-maintained pool, including properly functioning drains, ladders, pool covers
A pool security system to alert you when someone enters the pool area
Locked, well ventilated storage for all chemicals needed to maintain and clean the pool
An underwater alarm system to notify you if someone jumps or falls into the pool during unmonitored times of the day
Importantly, children and anyone using the pool should be taught basic water survival skills and what to do in case of an emergency.
Finally, if you have a backyard pool or are considering installing one, check your home owner's insurance policy. You may be required to purchase extra coverage, either by law or within your individual policy rules. Even if you are not required to increase your coverage, it may be a good idea to do so due to the risk of an unforeseen accident.
If you have been injured due to a swimming pool accident or another person's negligence, please do not hesitate to reach out to Lowe Scott Fisher for a free legal consultation. We can provide insight into your rights and may be able to help you get compensation for your injuries. Get in touch with us online or by phone at 216-781-2600.
Back To Blog