Should I Hire a Truck Accident Lawyer?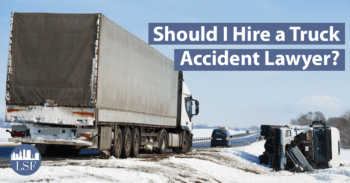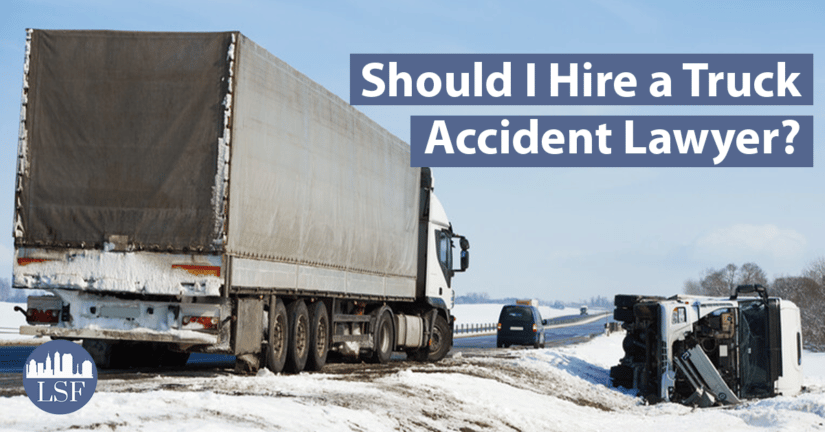 November 22, 2021
Truck accidents in Ohio are common. Unfortunately, this means that injuries and wrongful death caused by truck accidents are common, too.  If you or a loved one have been injured in a crash involving a semi or other truck, it is recommended that you contact a truck accident lawyer as soon as possible. 
While everyone is required to share the road, large trucks can wreak a disproportionate amount of havoc when negligence, distracted driving, drunk driving, or drowsy driving are involved.  Ordinary cars, vans, and pick-ups can sustain significantly more damage when involved in a truck accident.  This leads to heightened property damages, and an increased risk of personal injury.
These physical differences are just the tip of the truck accident iceberg.  Key differences in the law, the typical accident scenarios, and the operation of the vehicles themselves make truck crash cases complex.  What follows are a few of the reasons why, if you or a loved one were injured, you need an experienced truck accident lawyer.

Trucks Have Special Maintenance Requirements
A semi-truck requires significantly more maintenance to be "road ready" than an average vehicle.  Usually driven hard for thousands of miles on a routine basis, a tractor-trailer must be maintained for the safety of everyone on the road.  Additionally, modern trucks have computer logging systems that register engine and service issues, which may be a source of evidence if an accident occurs.
Having an experienced truck attorney like those at Lowe Scott Fisher Co., LPA ensures that your lawyer will understand the operational requirements of a particular truck.  More importantly, they will have the knowledge to analyze whether proper maintenance occurred, was neglected, or contributed to a crash.
Trucks are Subject to Federal Laws
In the United States, truck drivers are required by federal law to drive less than a mandated number of hours in a given timeframe.  Additionally, truck drivers and trucking companies are required to monitor and document compliance with this limitation.
Truck crash attorneys will better understand this, and other, laws applicable to commercial drivers.  This can translate into a smoother, more successful case for victims of truck driver negligence.
Truck Accident Claims Often Involve Employers or Manufacturers
In Ohio and other jurisdictions, a trucking company may be held liable for the negligence of its truck driver who injures another while acting within the scope of his or her employment.  This means that those injured in a truck collision or crash may be able to sue both the driver and the driver's employer.
In fact, some of the most common causes of truck accidents typically implicate the company or business who has hired the driver.  This includes improper maintenance, inadequate training, failure of record keeping, among other incidents of negligence.
Truck accidents may also implicate a truck manufacturer if a defective vehicle or component caused the crash in question.  Such cases can become extremely complicated and require dedicated, knowledgeable legal counsel.
When a commercial vehicle causes an accident, the injured parties deserve to be represented by an attorney who understands the complexities of employer and product liability.  By pursuing all avenues of remuneration, your attorney can protect your right to recover the full value of your claim.
Lowe Scott Fisher Co., LPA: Cleveland Truck Accident Lawyers
If you or a loved one were injured in truck accident, you need a lawyer you can count on.  Contact Lowe Scott Fisher Co., LPA today to speak to our truck accident attorneys.
Back To Blog