Beware of Spring Driving Hazards: Top Causes of Vehicle Accidents in Spring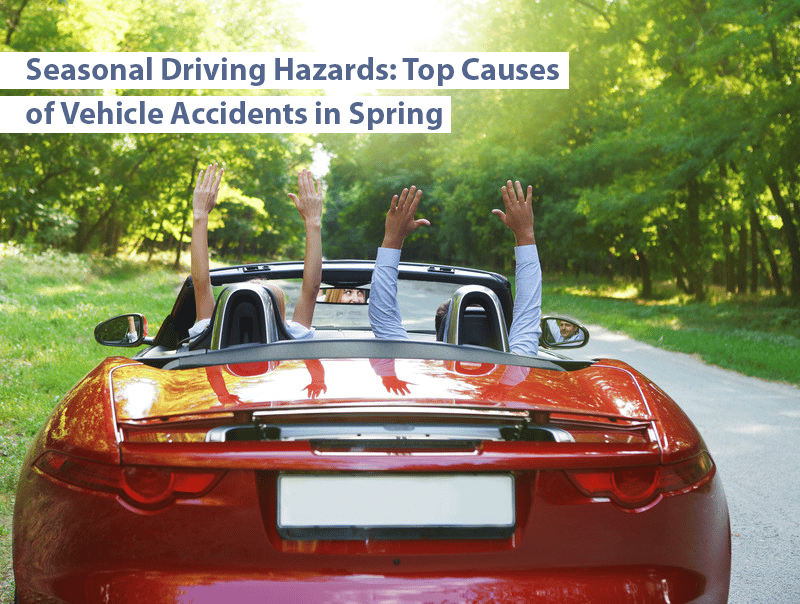 April 19, 2021
Spring is fully under way and people are flocking outdoors to enjoy the sunshine and warm weather. Many individuals are planning road trips and activities outside the home for the first time in over a year. And while thawing out from winter's grips is a breath of fresh air, new roadway hazards present themselves in the springtime that we must be aware of and avoid whenever possible.
Top Spring Driving Hazards:
Adverse and mercurial weather: Just like winter, spring comes with its own set of hazards. Weather conditions (particularly in Ohio) can vary day to day and even hour to hour. Along with spring comes heavy rains, strong winds, fog, and the occasional late-winter ice, snow and sleet. Ensure you remain safe on the roads under such varying conditions by scheduling a vehicle maintenance appointment to make sure your tires, windshield wipers and other mechanical aspects of the car are in good shape.
Potholes, Damaged Roads, and Construction: Winter in Ohio can wreak havoc on the roads, creating cracks, potholes, uneven surfaces, broken curbs, and other damage that can be a major hazard to vehicles. One of the most dangerous hazards to avoid is road construction. Road workers typically go to great lengths to maintain visibility and safety while on the job. Unfortunately, careless motorists can gravely endanger the safety of road workers by being inattentive, speeding, or driving too close to the construction zone. Avoid causing an accident by making sure your eyes are on the road, you are adhering to the posted speed limit and you are maintaining a reasonable distance from all construction activity.
Increased Traffic: COVID-19 has kept most of us from extensive travel for the last year. Now that vaccination efforts are under way, more and more people are taking to the roads to enjoy outdoor activities as the weather warms and the days become nicer. More vehicles are driving on the road and there is a significant increase in the number of pedestrians, cyclists and other people who share the roads with vehicles. Make sure to stay alert and always give pedestrians a wide berth. It's important to remember that pedestrians and cyclists can be unpredictable, especially small children. Always come to a complete stop at stop signs, look both ways at crosswalks and intersections, and avoid distracted driving. It's essential to keep an eye on slow moving traffic until it is safely behind you.
The rules of the road are fundamentally the same all year, but it's important to keep in mind how seasonal changes can affect driving conditions. Always remember to keep your phone out of your hands and your eyes on the road. Utilize your sideview mirrors, sensors, and backup cameras whenever possible.
If you've been involved injured in a vehicle accident, contact Lowe Scott Fisher about your legal options online or by calling (216) 781-2600. Initial consultations are always free and we have offices conveniently located in Cleveland, Chardon, and Lorain, OH.
Back To Blog