The Six Most Common Motorcycle Accident Injuries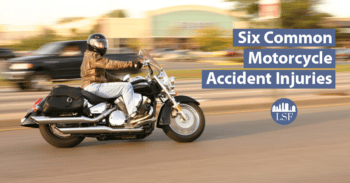 March 16, 2022
Ohio is home to more than 400,000 registered motorcycles. It is not uncommon to see motorcyclists year-round in the state, despite inclement weather during the winter and spring months. Unfortunately, motorcycle accidents in the state are all too common as well. In 2020 alone, there were almost 4,000 motorcycle accidents, more than 200 of which were fatal.
With those numbers in mind, it's important to understand the risks one takes as a motorcyclist and as a vehicle driver who shares the road with them. Below are the most common injuries sustained by motorcyclists and how those injuries can drastically alter one's life.
Head Injuries and TBI (Traumatic Brain Injuries): The very nature of motorcycles lends itself to an increased risk of head injuries. When coupled with a rider's unwillingness to wear a helmet, this can lead to catastrophic results ranging from concussions and fractures to traumatic brain injuries, hemorrhaging, coma, and death. The consequences of more serious head injuries can be lifelong and can have a dramatic impact on quality of life. (Read more about Traumatic Brain Injuries here.) Whether you've experienced moderate to severe head injuries, it's important to make sure you get the long-term care you need to ensure the best outcome possible for your situation. Treatment for head injuries can be expensive and ongoing and may include surgery, psychological care, physical or occupational therapy, long-term medical assistance, and monitoring for possible new symptoms over time.
Pelvic and Spinal Cord Injuries: Pelvic and spinal injuries are some of the most common in motorcycle accidents. When a rider experiences a spinal cord injury, outcomes can range from temporary discomfort from bruising and swelling to fractures, loss of mobility, corrective surgery, chronic pain, and death. Long-term treatment is often required and can be costly. Similar to TBIs and head injuries, spinal and pelvic injuries can require physical therapy, time off work, a full-time nurse's aid, psychological care, and a range of other treatments. Many individuals with spinal fractures never return to work and must rely on settlement money, social security disability, or family to supplement lost income.
Leg and Foot Injuries: According to the NTHSA, injuries to the lower extremities are far and away the most common among motorcyclists. Unfortunately, these are often difficult injuries to recover from. Feet and ankles are full of small delicate bones and nerves that when even moderately damaged, can cause permanent changes in sensation, mobility, and comfort. Ankle and foot injuries can often be permanent and may require life-long medical treatment. Because these injuries can affect a person's long-term quality of life, it's important to pursue compensation when possible. A settlement can offset the costs of care and can make long-term comfort accessible.
Internal Bleeding and Damage: Often injuries occur both externally and internally. If you experience internal bleeding after a motorcycle accident, this can greatly extend the amount of time you spend recovering from an accident. In turn, hospital bills may be drastically higher and your recovery time prolonged.
Road Rash: Though the term might sound less than serious, road rash is a type of friction burn that can be extremely painful and may require long-term treatment. Patients with moderate to severe road rash run the risk of infection, scars, and painfully embedded particles in the skin. Road rash can often require skin grafts, dermabrasion, ongoing burn-related care, and pain management.
No matter what injuries you've sustained as a motorcyclist, it's important to talk to an attorney if you believe your accident was caused by someone else's negligence. You may be entitled to compensation to assist with your ongoing care needs. The attorneys at Lowe Scott Fisher offer free consultations and contingency-based fee agreements – if you don't receive a settlement or monetary award, we don't collect a fee from you. Contact us today to speak to a motorcycle accident attorney about your case.
Back To Blog