Trial Lawyers Board of Regents Honors James Lowe with 2014 Litigator Award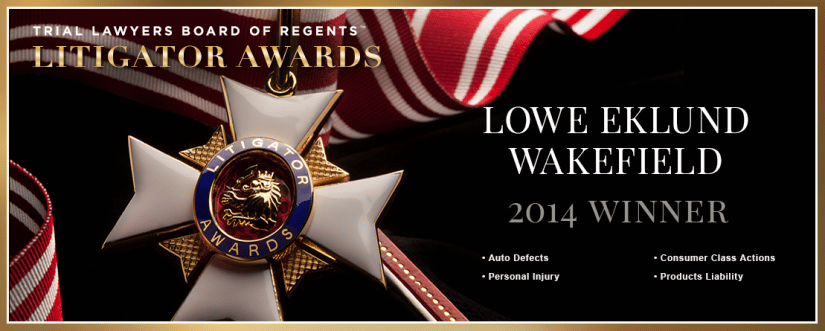 January 22, 2015
Lowe Scott Fisher Co., LPA is proud to announce that partner James Lowe has received the coveted 2014 Litigator Award for his achievements as one of the nation's premier personal injury attorneys.  Presented by the Trial Lawyers Board of Regents, the Litigator Award ranks among the highest honors that a lawyer can achieve.  With fewer than 1% of lawyers winning the Litigator Award, James Lowe has once again proven that his dedication to serving his clients is second to none.
The Litigator Award winner selection process does not rely on peer popularity; instead, winners are chosen based on actual "Verdict & Settlement" dollar achievement, making them among the most rigorous and openly judged award ratings anywhere. The Performance-Oriented Rating Methodology used to judge nominees makes the Litigator Awards program among the most rigorous trial-law competitions in the nation. Candidates get a thorough "vetting" by independent audit and research teams, which helps ensure that the verdicts and settlements are within the guidelines needed to win.
"Everyone on our team is striving toward the ideal of a civil justice system that creates a safer society by encouraging responsible behavior by both people and companies," explains James Lowe. Lowe Scott Fisher Co., LPA, considers one of its guiding principles is to help build a safer environment through better accountability and harsher penalties for those that violate established laws.
Over the last few years, James Lowe and others at Lowe Scott Fisher Co., LPA, have been honored with several other prestigious awards and recognitions, including Lawyer of the Year, Super Lawyer, and an AV rating from Martindale-Hubbell. U.S. News & World Report included the firm in its list of "Best Law Firms" (2010–2013); lawyers from the firm were again honored as Ohio Super Lawyers for 2013. James Lowe has been selected for inclusion in The Best Lawyers in America each year since 1993; partner Gregory S. Scott was also recently added to this list.
For nearly four decades, the attorneys of Lowe Scott Fisher Co., LPA have been dedicated to helping others by ensuring that negligent manufacturers, health care providers, and drivers are held accountable.  Serving clients in Cleveland, Ohio, and throughout the country, the firm has successfully represented people and families injured by auto defects, motor vehicle accidents, workplace accidents, medical and surgical malpractice, and defective products.
For more information on the Litigator Awards, go to http://litigatorawards.com
Back To Blog