Trick Or Treat Safety Tips: Staying Healthy and Safe In 2020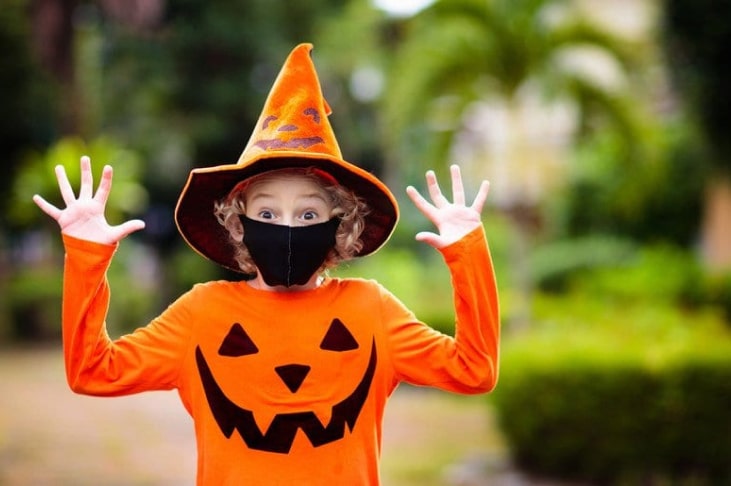 October 27, 2020
Normally trick or treat is one of the most exciting activities of the year for children. It's an opportunity to dress up, get free candy and enjoy some spirited fun outdoors with friends. Unfortunately, due to COVID-19, this year's festivities may look a little different, depending on where you live and how your community is choosing the celebrate. In light of these shifts toward socially-distanced activities, we've compiled a list of ways to keep Halloween safe this year, regardless of how your community is approaching trick or treat.
If You're Socially Distancing:
If you or the community where you live has opted to forego trick-or-treat this year, there are some fun alternatives available. Keeping activities restricted to your own household or outdoors in a socially distanced setting are the most effective ways to stay safe. The Centers for Disease Control have outlined a number of alternatives to the standard trick or treat for parents and family members to consider, including:
Setting up a Halloween-themed candy hunt in your own backyard or home for your immediate household.
Carving, painting or decorating pumpkins with members of your household (Note: small children should not carve their own pumpkins. If your child wants to carve a pumpkin, let them draw their design on the pumpkin and have an adult take over knife duties.)
Carving and decorating pumpkins outdoors with neighbors in a socially-distanced setup (no less than 6 feet apart from anyone not living in your household.)
Setting up a virtual Halloween party through digital video apps like Zoom, FaceTime or another platform.
Having a Halloween movie night with members of your household.
Decorating your house and taking a walk through your neighborhood to enjoy other outdoor decorations.
If You're Planning To Do Traditional Trick Or Treat:
Many parents have opted to do a scaled-back, socially-distanced trick-or-treat this year. For those who are still planning to go door to door, a few modifications to standard trick-or-treat protocol can greatly reduce the risk of spreading disease.
Stick to small groups of trick-or-treaters, no more than four if possible.
Always wear a cloth mask. If your child's costume requires a rubber or full-face mask, this is not a substitute for a cloth mask. Consider switching to non-toxic face paint with a cloth mask, as a rubber mask on top of a cloth mask may make it difficult to breathe.
Bring plenty of hand sanitizer and make sure to utilize it regularly.
Pack extra masks in case any are lost or dirtied.
Remind young trick-or-treaters to avoid touching their eyes or noses with their hands. Make time for sanitization breaks!
Be sure that any costume and its accessories are made from flame-resistant fabric and all face paint is non-toxic!
Make sure your child's shoes fit properly to minimize trip and fall accidents.
Always walk on the sidewalks and cross in designated crosswalk areas wherever possible. If your neighborhood does not have sidewalks, keep to the far right of the road, as close to the curb as possible, facing traffic.
If you are trick-or-treating with small children, hold their hands while crossing the street and teach them to always look both ways before entering a crosswalk or the roadway.
Affix reflective tape or glow sticks onto your child's costume for better visibility during dusk and evening hours.
Bring a flashlight with fresh batteries.
Avoid sharp toys like swords, knives and other accessories that may harm a child.
If You're Passing Out Candy:
Staying safe is equally important for those passing out candy this year. Take a look at these common-sense (and creative) ways to protect yourself and your household while still participating in this year's Halloween festivities.

Skip the candy bowl and opt for individually portioned baggies or festive disposable cups with candy or treats organized on a table for children to take.
Find a creative way to deliver candy with minimal contact (like a candy chute, long kitchen tongs, a net, or another safe apparatus!) Avoid throwing candy, however, as it may cause injuries to the eyes and other body parts.
Wear a cloth mask, wash your hands regularly and use hand sanitizer.
Wear gloves to further minimize contact.
Sweep wet leaves off of sidewalks and remove trip hazards like toys, bikes, hoses and any lawn decorations.
If you have pets, keep them in a separate area of the house to avoid the risk of bites or jumping on unsuspecting small children.
If You're Driving On Trick-Or-Treat:
If you don't have to drive during trick-or-treat, it's best to stay off the road. According to a study released in the JAMA Pediatrics journal, Halloween is one of the deadliest nights of the year for pedestrians. Unfortunately, driving during trick-or-treat cannot always be avoided. If you must be on the road during this high-hazard period, following some of the following guidelines can help keep the roads safe for everyone:
Avoid distracted driving at all costs. Put down your cellphone or other handheld devices and make sure loose items in the car are secure.
If others are traveling with you, try to maintain a calm environment that will help you focus on the road and not what is going on inside the vehicle.
Always keep an eye out for small children walking in the road, on the curb and sidewalks and in the crosswalks. Adhere to speed limits, especially in residential areas, and consider slowing down further in light of the increased risk of the holiday activities.
Be extremely cautious when backing out of driveways or parking spaces of any kind. Check your mirrors and back-up cameras if you have them. Listen for children approaching.
If you are driving during the evening hours, pay extra attention to individuals who may be wearing dark clothing.
Discourage new or inexperienced drivers from driving on Halloween.
By following these safety precautions, Halloween and trick-or-treat can still be a fun, safe time of year for everyone! For information about your rights regarding a safety issue, or if you've been injured in an accident, contact Lowe Scott Fisher for a free legal consultation today.
Back To Blog