Trick-or-Treat Driving Safety: A Spooktacular Guide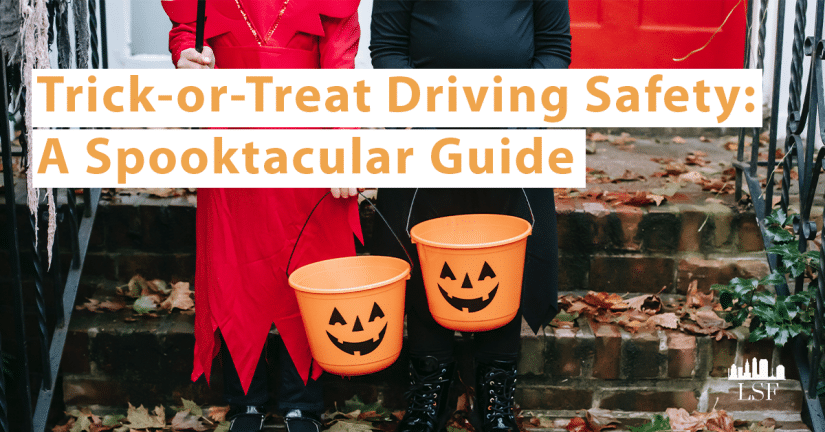 October 11, 2023
Halloween is just around the corner and for many, this means dressing up in creative costumes, carving pumpkins, and, of course, the much-anticipated trick-or-treat tradition. While Halloween is all about fun and excitement, it's important to remember that safety should be a top priority, especially during trick or treat. Below are some essential driving safety tips to ensure a safe and enjoyable trick or treat for everyone.
1. Slow Down and Stay Alert
On Halloween, children and adults alike are out and about, often in dark costumes and masks that may limit their visibility. It's crucial to drive below the speed limit and exercise extra vigilance in residential neighborhoods and around areas where you know trick-or-treaters are likely to be present. Reducing your speed not only gives you more time to react but also minimizes the severity of potential accidents.
2. Use Your Headlights
Turning on your headlights well before dusk and keeping them on throughout the evening is an easy way to make yourself more visible to pedestrians. Remember, not all costumes come with reflective materials, and some may blend into the dark surroundings. Bright headlights can help ensure you spot trick-or-treaters from a distance.
3. Avoid Distractions
Distracted driving is dangerous on any occasion, but it's particularly crucial to stay focused on Halloween night. Put away your cell phone, avoid fiddling with the radio, and keep your attention on the road. Even a momentary lapse in concentration can lead to an accident.
4. Be Cautious at Crosswalks
Pedestrian safety should always be a priority, but it's especially true on Halloween. When approaching crosswalks, be sure to stop and allow pedestrians to cross safely. Keep in mind that costumes may limit their vision, making it harder for them to judge the speed of oncoming vehicles.
5. Park Safely
If you're attending a Halloween party or event, park your vehicle in a well-lit, designated parking area. Avoid parking on the side of the road or in a way that obstructs traffic. When you're leaving the event, check your surroundings carefully before pulling out to ensure no pedestrians are in your path.
6. Don't Drink and Drive
Halloween parties often involve alcohol, so it's crucial to plan for a safe way home if you're drinking. Designate a sober driver or use a rideshare service, taxi, or public transportation. Drinking and driving is never safe, and it's especially dangerous on a night when there are more pedestrians on the road.
7. Educate Your Children
If you have children who will be out trick-or-treating, take some time to educate them about road safety. Teach them to cross streets at crosswalks, look both ways before crossing, and avoid darting out into the road. Ensure their costumes have some reflective elements or provide them with glow sticks or flashlights to make them more visible to drivers.
Halloween is a magical time filled with excitement, fun, and imagination, but it's essential to keep safety in mind, especially when driving. By following these driving safety tips and exercising caution, you can help ensure that Halloween remains a fun and memorable night for everyone. So, slow down, stay alert, and let's make this year's trick-or-treat adventure a safe and spooktacular one!
Contact Lowe Scott Fisher today for a free legal consultation. We are available online or by phone at 216-781-2600 Monday through Friday 9 a.m. to 5 p.m.
Back To Blog