Winter Slip and Fall Accidents In Ohio: Natural vs. Unnatural Accumulation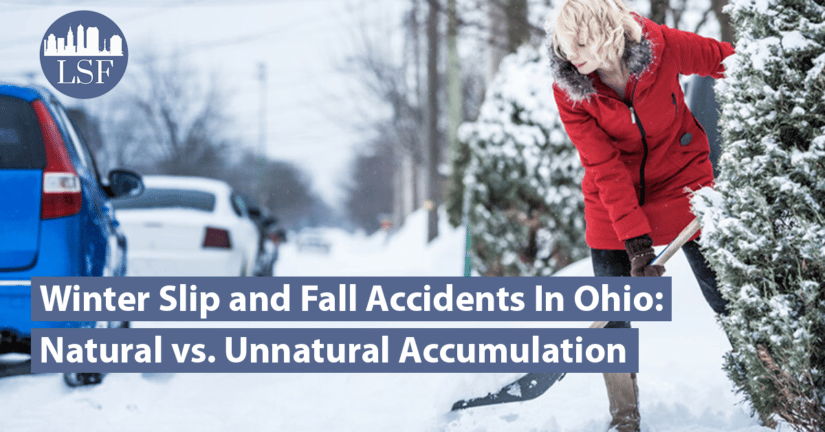 February 22, 2022
Winter in Northeast Ohio comes with a unique set of hazards that cause a major increase in slip and fall accidents. Businesses, landlords and other property owners struggle to maintain safe walkways and their patrons and tenants suffer the consequences of careless landowners with injuries ranging from scrapes and bruises to fractures, concussions, and other injuries that can land someone in the hospital for days.
Unfortunately for injured Ohioans, because snow and ice are so common during the winter months in Ohio, and especially in Northern Ohio, the law provides significant protection for property owners when dealing with what we call "natural accumulations." There are, however, some circumstances in which a property owner can be liable for ice and snow accumulation, and in these cases, this is due to "unnatural accumulation." "Natural" versus "Unnatural" will determine whether or not you have a case.
What is the difference?
Natural accumulation of snow and ice is relatively self-explanatory – it is the result of ice and snow build-up due to normal winter weather conditions. Slip and fall accidents that are a result of natural accumulation typically cannot be pursued because it is unreasonable to expect property owners to maintain perfect conditions in states like Ohio where heavy snow and ice are regular occurrences during the winter months. Slop and slush on roads and in parking lots are usually considered natural accumulations and do not give rise to a claim.
An unnatural accumulation is typically the result of negligent property management. There are many examples of negligence that can cause unnatural accumulation. Leaky, broken gutters and overhangs that create puddles below them that become icy on the pavement are common culprits for the unnatural accumulation of ice. Another common scenario occurs when a parking area or driveway is poorly maintained and ice accumulates in a pothole.
Cases that involve unnatural accumulation can be extremely difficult to prove and require clear, solid evidence to demonstrate the property owner's negligence. It's critically important that in such circumstances, photos, videos, and other evidence is preserved.
An additional consideration can be the length of time the hazard is present on the property. Landlords and other property owners must resolve issues within a reasonable time period. A case may hinge on how long the hazard was known to exist and whether or not the property owner had exceeded a reasonable time frame in rectifying the matter.
Regardless of the circumstances, if you've experienced a serious injury due to a slip and fall on ice or snow, it may be in your interest to contact an attorney to discuss your options. In the event that your injury was caused by an unnatural accumulation of ice and snow, you may be entitled to compensation from the property owner. For a free legal consultation, get in touch with Lowe Scott Fisher in Cleveland, OH. Our attorneys will analyze the facts of your case and provide guidance on how you may be able to proceed. Contact us today on our website or by phone at (216) 781-2600.
Back To Blog