Lowe Eklund Wakefield Announces Firm Name Change to Lowe Scott Fisher Co., LPA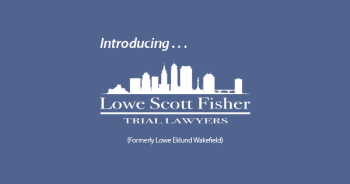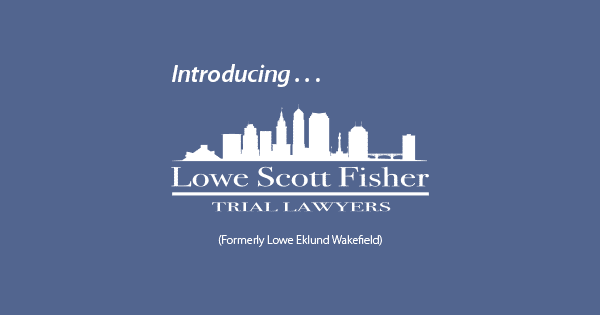 January 14, 2021
Cleveland, OH, January 13, 2021 – Lowe Eklund Wakefield Co., LPA, a personal injury law firm based in Cleveland, OH, today announced it has changed its name to Lowe Scott Fisher Co., LPA, effective January 1, 2021. The decision to change the name was made in order to recognize the outstanding contributions to the firm made by partners Gregory S. Scott and Ryan H. Fisher.
"After many years as 'Lowe Eklund Wakefield' we came to the realization that our law firm's name was outdated," said founding Partner James A. Lowe. "The inclusion of Greg Scott and Ryan Fisher in the renaming of the firm offers a more accurate representation of the leadership in place. We have and will always offer high quality legal representation to our clients and the name change reinvigorates our commitment to that promise."
Lowe Eklund Wakefield was founded in 1976 by James Lowe, a Cleveland-Marshall College of Law graduate and nationally-recognized leader in defective product and product liability litigation. Lowe, who has recovered over $100 million in verdicts and settlements for his clients, is active in numerous legal associations and has been recognized with dozens of awards over the past 45 years, including his induction into the Cleveland-Marshall College of Law Hall of Fame in 2020.
Greg Scott, also an alumnus of Cleveland-Marshall College of Law, became partner at Lowe Eklund Wakefield in 2002 and has obtained dozens of million-dollar settlements and verdicts during his time at Lowe Eklund Wakefield. He is an active member in numerous professional organizations and is a past president of the Cleveland Marshall Law Alumni Association, and a Master of the Bench in the William K. Thomas Inn of Court, having served several times on its executive committee.
Ryan Fisher joined Lowe Eklund Wakefield in 2008 as a partner. He is a graduate of Cleveland-Marshall College of Law. Fisher has more than 30 years of experience as a trial lawyer and has won millions of dollars in awards and verdicts for clients. Fisher was appointed by the Ohio Supreme Court and served on the Board of Commissioners on the Unauthorized Practice of Law and serves on the oversight board for the Cleveland Metropolitan Bar association. Mr. Fisher is a longtime member of the Cleveland Academy of Trial Attorneys, American Association of Justice and Ohio Academy of Justice.
"I have always been extremely proud to work at our firm because of its long and distinguished history of passionate, highly successful advocacy for our clients. I am both proud and humbled at being identified in our firm's name," said Scott. "As an organization, we are more committed than ever to providing the highest quality legal service, with the very best possible results, to all our clients."
Lowe Scott Fisher is also home to Partner Attorney Meghan P. Connolly, a Cleveland-Marshall College of Law graduate with a distinguished track record in personal injury, product liability, nursing home negligence and malpractice law. Connolly serves on the Board of Directors of the Ohio Association for Justice as well as the Cleveland Academy of Trial Attorneys.
The new name will be transitioned into the firm's marketing materials throughout January 2021, including our new website, www.LSFLAW.com. All email addresses for the firm will be converted to @lsflaw.com format and old email addresses will forward there.
We remain located at:
Cleveland Office
1600 W. 2nd St.
610 Skylight Office Tower
Cleveland, OH 44113
(216) 781-2600
Chardon Office
113 North Hambden
Suite #205
Chardon, OH 44024
(440) 226-3566
Lorain/Amherst Office
4789 Leavitt Rd.
Suite A1
Lorain, OH 44053
(440) 654-4203
Also coming in 2021 is the opening of an updated and improved Geauga County satellite office, which will be located on the square in downtown Chardon, OH.
"Chardon has always been an important area to our practice," said Fisher. "The opportunity to expand and improve the office facilities there allows us to better serve the people of Geauga County and the surrounding areas."
Lowe Scott Fisher Co., LPA would like to extend a special thank-you to all our clients, past and present, who we have had the privilege of assisting over the years. We deeply appreciate your trust and support and look forward to continuing to serve you with the same dedication and integrity we have exhibited since 1976.
To find out more about Lowe Scott Fisher, please visit our website where you can find attorney bios and additional contact information.
About Lowe Scott Fisher Co., LPA
Lowe Scott Fisher is a nationally-recognized personal injury law firm located in Cleveland, OH, with additional offices in Lorain and Chardon, OH. The attorneys at Lowe Scott Fisher are well known for successful settlements and verdicts in product liability, medical malpractice, wrongful death, motor vehicle accidents and nursing home negligence cases. Our attorneys have received numerous awards, honors and fellowships, including a "superb" rating from AVVO, listings every year in Best Lawyers In America and Ohio Super Lawyers as well as membership in the prestigious and highly selective International Society of Barristers and the American College of Trial Lawyers.
# # #
Media inquiries can be directed to Libby Brandt, Marketing Manager, at [email protected] or by phone at 216-781-2600.Previous Post:
Back To Blog