Partner Attorney Ryan H. Fisher Receives J. Thomas Henretta Distinguished Advocate Award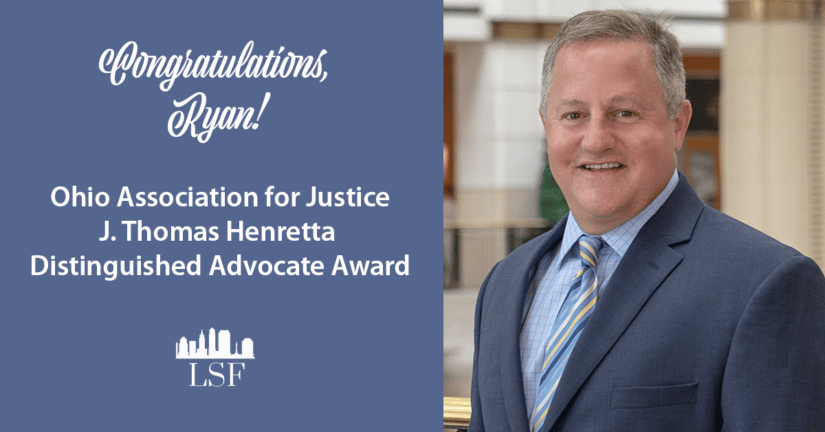 May 10, 2022
Tuesday, May 10, 2022 – Cleveland, OH – Lowe Scott Fisher is proud to announce that partner attorney Ryan H. Fisher is the 2022 recipient of Ohio Association for Justice (OAJ) J. Thomas Henretta Distinguished Advocate Award.
The J. Thomas Henretta Distinguished Advocate Award is given annually to one OAJ member whose tireless advocacy and commitment to protecting and preserving the civil justice system serves as an inspiration to trial lawyers around Ohio. Fisher received the award for his diligent pursuit of justice for childhood sexual assault victims in Cleveland, OH. James A. Lowe, founding partner of Lowe Scott Fisher and longtime OAJ member, presented the award to Fisher at the Annual Convention in Columbus.
"I am honored to receive the Distinguished Advocate Award," said Fisher. "It is very humbling to be recognized by my peers and I am deeply grateful to them and to the clients I have had the privilege of representing."
Fisher was born and raised in Greater Cleveland and graduated from the Cleveland Marshall College of Law in 1989. Since being admitted to the Bar in 1989, Fisher has won countless settlements and awards for injured clients in Ohio. He was appointed by the Ohio Supreme Court and formerly served on the Board of Commissioners on the Unauthorized Practice of Law. Fisher currently serves on the oversight board for the Cuyahoga Metropolitan Bar association and received the highest rating from his peers for ethics and ability (A-V). Fisher is a member of OAJ, the American Association for Justice, Cleveland Academy of Trial Attorneys, and the Cleveland Metropolitan Bar Association.
OAJ is a statewide membership-based organization for attorneys, paralegals, and legal assistants that promotes and protects Ohioans' right to a fair and impartial civil justice system, including their constitutional right to trial by jury, through advocacy, education and training. The association seeks to inspire excellence among members of the trial bar in such specialty areas as workers' compensation, personal injury, medical negligence, product liability, consumer law, insurance law, employment and civil rights law, and general negligence.
Lowe Scott Fisher is a nationally-recognized personal injury law firm located in Cleveland, OH, with additional offices in Lorain and Chardon, OH. The attorneys at Lowe Scott Fisher are nationally recognized for successful settlements and verdicts in product liability, medical malpractice, wrongful death, motor vehicle accidents, and nursing home negligence cases. Our attorneys have received numerous awards, honors, and fellowships, including a "superb" rating from AVVO, listings every year in Best Lawyers In America and Ohio Super Lawyers as well as membership in the prestigious and highly selective International Society of Barristers and the American College of Trial Lawyers.
For more information about Ryan Fisher and the team at Lowe Scott Fisher, please visit our website or contact us today at 216-781-2600.
Back To Blog